Cloud tips
2 Important factors for good backups: Scheduling & Retention
Published
February 9, 2015

by

Cameron

Cloud backup can be a lot like vacation insurance. 99% of the time you never have to use it but that 1% that you do turns you into a vacation insurance advocate. But what happens when you need coverage and realize you purchased it for the wrong dates or you didn't buy enough?
Misunderstanding cloud backup scheduling and retention won't stress you out when things are going great 99% of the time. After all you have cloud backup and that makes your business data and those that rely on it happy. But what about the 1% of times when you need to restore your backup? Did all of the data get backed up that you thought was protect?
Did you set up your schedule correctly? What about setting up your retention?Why wait until it's too late to find out the answers to these questions? In just a couple of minutes you can pick up several tips that can save your data and you some grey hairs down the road.
Backup Scheduling
Setting up an effective backup schedule isn't hard to do. It's because it's so simple that people will overlook important settings. I'll walk you through these settings using NIRIX's oneBackup.
How are you prioritizing your data? Do you have the "backup everything all the time" mentality? This is the safest option for your data but it will also result in the most storage used.
At the other end of the spectrum is the "back up only the most important information every once a while" line of thought. This works well for those that like pinching pennies but it's risky and takes a lot of time to manage.
What you are looking for is somewhere in between those two extremes. Finding that balance can be tricky. Categorizing your data into these three groups will help.
Data you will need in the future. This data is critical to your business's success. This could be things like customer lists, main projects, essential code, HR documents, contracts and agreements, financial data, or client documents.
Data you might need in the future.
Data you know you will not need in the future. Keeping all your data is a tempting option but may not be feasible. If you really want to backup this data consider archiving it on an external hard drive.
Pro Tip
Keep in mind that it's likely that some of your data must be kept a certain amount of time due to government or industry requirements.
Now that your data is categorized you can apply different schedules based on the importance of that data.
---
Schedule 1: Data you will need in the future.
Risk of lost data: Low
Storage space required: High
Data backup frequency: High
Your most important information should have multiple backup points. This ensures that if at any point the data becomes corrupt you can revert to a previous point. This data schedule would include daily, weekly, and monthly backups. It would look something like: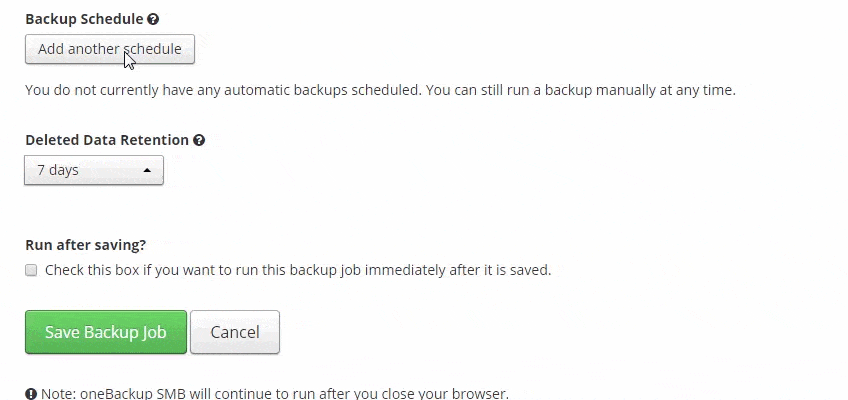 ---
Schedule 2: Data you might need in the future.
Risk of lost data: Low
Storage space required: Medium
Data backup frequency: Medium
This type of data is either created frequently or infrequently. For the frequently created data you may run a similar schedule as the one shown above. That would be the safest and most costly option. If you are not too worried about this data or it is created infrequently your schedule would look something like this: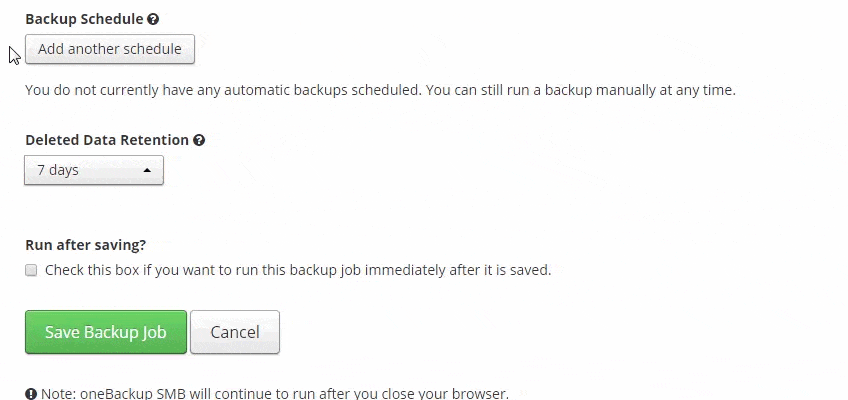 ---
Data you know you will not need in the future.
Risk of lost data: No data is backed up
Storage space required: No backup space is used
Data backup frequency: Data is not backed up
This may seem like a no-brainer but including unwanted data in the above schedules is often overlooked and it inflates storage needs. Here's how you deselect this type of data from within the schedules above.

To get the most value out of your backups you will want to have two backup jobs created. One for the very important data that backups frequently on a daily, weekly, and monthly basis and one for your data you might need in the future, backed up less frequently.
---
Other things to keep in mind
Backup time: What is the best time of the day to run your backup? Is it at the end of the day so you capture all that days work? Or is it some other time that makes more sense for your business?
Staggering backups: With multiple schedules you will want to run the backup at different times. This will help avoid any potential cpu or bandwidth bottlenecks. Not only should you stager your backup jobs but also multiple backup schedules within a backup jobs.
Pro Tip
The more redundant you can make your important data the better. A good way to start protecting your data is to have it in 3 different places. For example, you would have your local copy, a cloud copy, and then another cloud copy using a different service or an external backup hard drive.
Now that you've brushed up on building a reliable backup schedule and retention policy have a look at what your backup settings look like. Could they be improved? Don't wait until it's too late to make a change.
Lastly, if you are looking for reliable cloud backup for your business you'll want to have a look at oneBackup You already know how to set up a proper backup schedule and retention policy using it. Plus, it's 100% Canadian and built specifically for worry free business data backup.